The 5 Stop Power Station Sunset Experience
Photographing Drax and Eggborough Power Station at Sunset
When it's a windless day, I can see clouds of steam from Eggboeough and Drax power stations – which are 25-30 miles away from my desk in Morley.
Last week, I'd been desk-bound all day and saw a great sunset was on its way AND these clouds, so packed the camera and set off on the M62.
Eggborough Power Station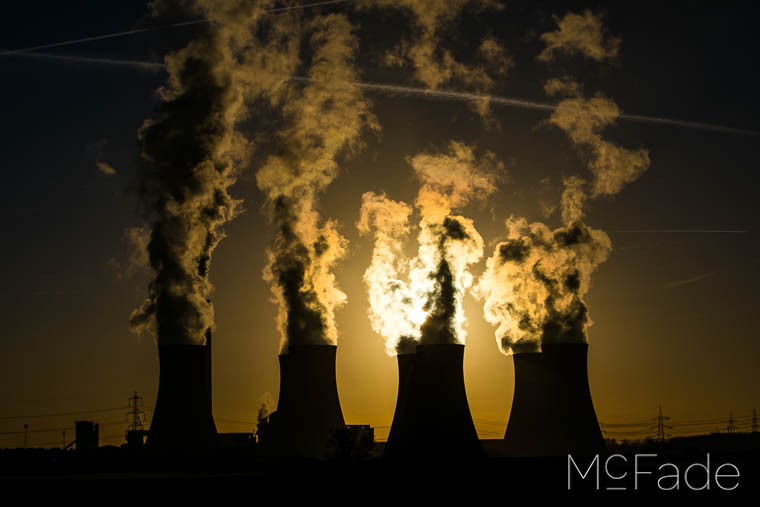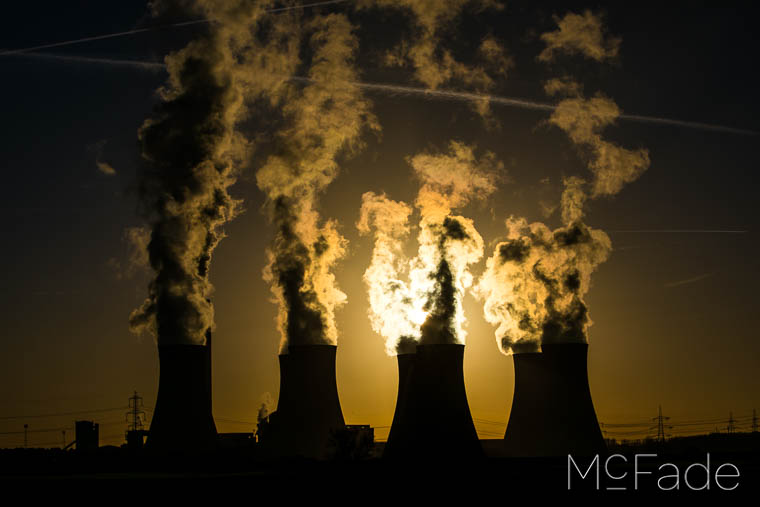 The first point – don't get too close and shoot them, I've done it, security are all over you like a rash and they really don't like you being there. I've had long debates with them – but apparently, there are special laws which stop you photographing huge infrastructure locations. Maybe ring in advance to get permission if you want to get close.
So Eggborough – just a couple of miles up the A19 and turn right after a small hump-backed bridge, and you get the sun directly behind the clouds and towers. You want the steam to be backlit for the most dramatic effect. Also the sun can add so much colour to the otherwise white steam
These 2 shots were taken hand-held with the 70-200mm lens – then I swapped over to the 16-35mm to show the huge clouds and their curved paths more. Also, I could put on a 10-stop ND filter to extend the exposure from 1/400th to a full 30 seconds
Drax Power Station
Location 1
I found this puddle many years ago, just by chance I'd parked in a gateway to get a shot and there it was.
Was an obvious place to try a shot – the puddle was frozen over so the perfect reflections were slightly obscured, but I quite like the stark cold look it gives – especially compared to the warm clouds.
You could argue I should get rid of the power lines – they are a distraction – but surely a power station does have the odd cable around it 😉
Drax – Location 2
This is near a farm just past DRAX – there was a big pond nearby but was on private property AND the farmer was milling around, so thought better than trying to shoot from it.
It gave great close up shots of the steam as it was floating virtually over head
There were a couple of puddles there too – so got an ultra low reflection shot. Basically, the camera was touching the puddle when I took it… takes a bit of practice.
Drax Location 3
This third location is from about a mile away in a field near the river Aire. It's often full of arable crops, so you can get bobbing yellow oil seed or ears of wheat in the foreground, today it had the beginnings of some wheat by the look of it. But the crops were too small to bother with, so we concentrate on the sky – the shape of the cloud as it floats away from the towers.
This second shot is a faster shutter speed and processed to be cooler – lots of blue tones. Just a different feel.
Location 5 – Goole Docks
Once the sun had set, the power station looked dull and grey – but the sky to the west was still glowing all kinds of warm colours.
So I headed over a familiar route to some docks in Goole. I'd passed these 8 years ago and remembered they had some nice shapes and textures, as well as wonderful reflections of course.
A factory door opened and dozens of ducks sprang into the water…
Even cranes look pretty cool with a sunset going on behind them
More detail of this large machine – no idea what it is though.